SUPPOSITORY MOULDS / Globules
These are basic types of moulds for rectal suppositories and vaginal globules. Their design respects the experience and requirements of pharmaceutical and medical practice.
The moulds are made of duralumin. Their inner surface is coated with silicon resin which prevents the contact of the moulded material with the metal of the mould, and guarantees maximum inertness of the mould.
The moulds have been certified by the State Institute for Drug Control in Prague and have been recommended for use in pharmaceutical and medical practice. The construction of the moulds guarantees long-lasting functional properties and quality.
---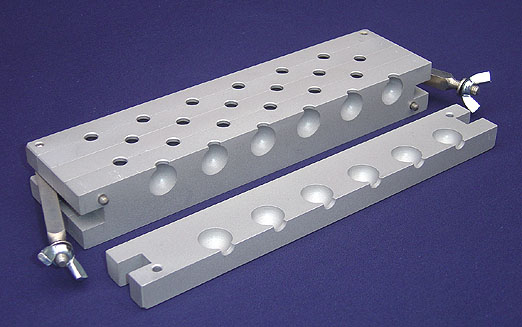 Globule

(g, ml)

D

(mm)

2

16

3

18
| | | | | |
| --- | --- | --- | --- | --- |
| 40243 | 3 | 24 | 326,50 € | buy |
| 40483 | 3 | 48 | 558,80 € | buy |
| 40242* | 2 | 24 | 326,50 € | buy |
| 40482* | 2 | 48 | 558,80 € | buy |
* ... production only on request